Spain v Ukraine, ITV1
ITV's pre-match feature is filled with conspiratorial Spaniards and the infamous South Korea game of 2002 all over again, followed by a moody melancholy interview with Andriy Shevchenko and his American wife.
Into the studio, and Ruud offers an opinion that the Basque, Catalan and Castillan in-fighting within the camp are the cause of Spain's perennial underachievement. Andy storms in and completely fails to understand what Ruud is going on about, causing Gullit to put a reassuring hand on his knee and point out that "there are players that who don't even want to play for Spain". By way of curious comparison, Ruud points out the Americans don't always click during the Ryder Cup.
ITV are in a hurry with their pre-match ad break and only have time for two commercials before Peter Drury gets us underway by identifying the injury recoveree Shevchenko as "their Rooney, their Totti, their star". Our first abstract English reference is before kick-off, so anyone playing a drinking game might be extremely tipsy by final whistle - "the Swiss referee might send a shiver down an English spine, he was in charge in Belfast the night Northern Ireland won".
David "hello everybody" Pleat believes this is going to be a real good one, although he hopes it's not too hot for them and that the pace doesn't get too sluggish. Drury suggests it could reach 34 degrees, the hottest of them all so far.
With just 3 minutes gone, Spain break through the Ukrainian defence and almost take the lead. Our first idiosyncratic Pleat pronunciation of the day, as the Ukraine number 2 Nesmachniy is described thusly: "terrific ball inside the full back there, it caught Nes-man-cheese really awake...er, half-asleep there..."
Drury again points out that Shevchenko has only played for 30 minutes in a warm-up match against Luxembourg since getting injured a month ago, and again states it's a "Totti, Rooney, Messi story".
Ukraine fail to convert a free kick, causing Pleat to offer his tactical opinion: "You see [the defenders] all backtrack, right on top of the goalkeeper... I don't understand why the defenders sometimes don't do the bluffing and just stand still then push out as the kicker puts his head down and try to catch an offside and make the kicker think twice about the next free kick." Well, when you put it like *that*...
Pleat thinks that Shevchenko being fit to play is a massive "lisp..er, lift" for the team. Drury once again reels off the Spanish sporting hall of fame in 2006 ("Barcelona, "Sevilla", "Fernando Alonso", "Rafael Nadal"), and Shevchenko is wrongly flagged offside - much to Peter's chagrin.
Marcus Senna has a shot that the Ukraine keeper ("Su-shos-soss-key"- Pleat) can only palm behind for a corner. Pleat just has time to compliment Senna's Champions League performances for Villarreal "against The Arsenal", before the corner is whipped across and bundled in for Spain's opening goal. Drury, influenced perhaps by the director's choice of camera angle, accredits the goal to "little Luis Garcia nipping in at the near post" even though the replay shows Garcia being about 2 feet below the ball as it passes over him onto the awaiting shoulder/ear of Xabi Alonso. By the third replay angle, Drury is concerned by the continued absence of Garcia in contact with ball and is prepared to concede that "the last touch might...might have been a Ukrainian touch. It may well have deflected off the centre half, Garcia got the faintest contact, there isn't too much concern about the individual to which the goal is credited..." Tell that to Motson and Lawrenson last Saturday afternoon...
A few minutes later and Ukraine concede a foul some 25 yards out. Drury, still mindful of the as-yet-inconclusive first goalscorer, is adamant this time as Villa's free kick sails into the corner of the net: "Villa - it's two! And that one is clean as a whistle! And Shovkovskiy barely moved!"With the replay yet again proving contradictory, it's up to Pleat to identify what actually happened: "I think it definitely got a refl...deflection..."Drury is unconcerned as by this point someone in VT has told him that Alonso should be credited with goal one.
ITV have got the gremlins in again, as with 19 minutes gone Peter Drury's tale of Spain having to qualify via a play-off is rudely interrupted by a test card announcing a This Morning Promo followed by the ITV1 caption. We return in time for Pleat to tell us "it's very difficult to come back from a 2-0 deficit in this heat."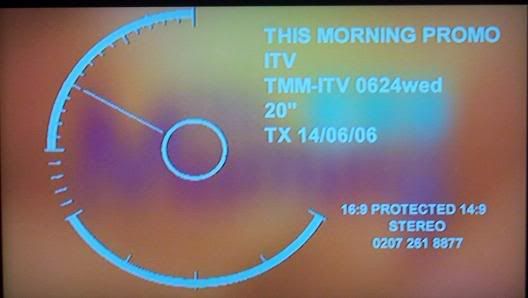 A couple of minutes later and things are even scarier, as a goal kick is interrupted with an on-screen display telling us "Video Alarm Detected". Thank god we know, eh? I wouldn't have been able to sleep worrying that Video Alarm is prowling around undetected.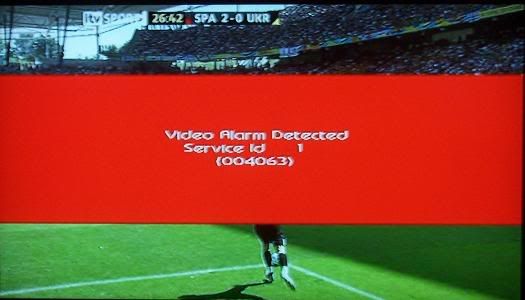 David Pleat identifies the trickery of Fernando Torres as Spain swing in yet another corner: "That's his movement, standing still, makes a dummy to run, stays, then goes again."
We see the omnipresent Franz Beckenbauer, alongside an unidentified couple - presumably dignitaries from one of the competing nations, although Peter Drury clearly hasn't been briefed on who exactly they are, causing a slightly lingering silence as the camera concentrates on them for what seems like minutes.
As the half draws to a close, Ukraine are flagged offside on two further occasions, prompting much accusation that it's not going to be their day. The half ends with 44:59 on the clock, although Drury and the ITV clock-stopper don't realise for a good five seconds afterwards.
Half time, and having predicted Spanish self-destruction beforehand, Townsend is now singing their collective praises. Gabby asks Ally to analyse the first goal, and specifically "which body part this came off, and whose it came off." She can't help but snigger at this apparent euphemism whilst Ally explains all.
Townsend doesn't realise what time it is, mentioning that the likes of Villa, Torres and Garcia have played well "tonight". Ally is impressed with Torres, although he oddly uses Torres' participation in all three of Spain's Euro 2004 games as evidence for Torres' inexperience.
Gabby's professional link into the advert break is spoiled by the director's use of "more pretty girl shots". Sexism and Steve Rider stealing the England games? What is a girl to do?
Just time for a quick link to Ned Boulting before the second half, who's found the double decker bus that's travelled to Germany, collecting signatures from England fans and celebrities along the way - Ned gives a cursory mention to the autographs of Tony Blair, Ricky Hatton and Rebecca Loos, picking out Noel Gallagher's "Peace, Love and Bananas" in particular. He then wanders over to the England Supporters Band, now sponsored by Pukka Pies, who can't supply Ned with any new material as we fade out to the strains of The Great Escape.
Three Lions is blaring over the tannoy as the second half begins, and Ukraine make two substitutions. Drury is at a loss as to who they're coming on for, furiously stalling in the vain hope of a caption from the host broadcaster to explain all: "it hasn't been made clear as yet which players they're replacing, we'll bring that...to you......as the second half.........develops."
Drury really isn't having a good day, not even able to remember Trinidad's shock non-defeat from Saturday: "Ukraine are the eighth World Cup debutants here, Trinidad & Tobago lost, and so did Angola, and so did Ivory Coast." He's still on this train of thought as Torres breaks through into the Ukraine penalty area, apparently beats his man and shoots feebly into the standing keeper's chest. However, the referee's whistle goes, the defender Vladislav Vashchuk is sent off, Spain are awarded a penalty, and poor old Peter is completely befuddled by events. "Where's the problem? Where IS the problem?" is all he can muster as even a replay fails to show any apparent offence. "Holding his pants there, just a little tug on the pants" assesses Pleat as the replay shows Vashchuk making minimal contact with Torres. "Oh David, if a penalty was awarded every time there was a little clutch like that then we'd be watching 8-all draws!" protests Peter.
"Very difficult to make early predictions, particularly as some teams have played in the cooler evening weather, and that's where we've had our better games, particularly Argentina - Ivory Coast, Brazil - Croatia." Did David Pleat see the fairly tedious spectacle of Brazil's game last night? A few minutes later he's claiming Aragones is the oldest coach at the tournament, which won't please Otto Pfister's attempts to enter the record books for anything other than his resign then re-sign saga.
Andriy Voronin shoots just wide on the volley from 20 yards out. "He's one of the pin-ups in Ukraine, the face of Coca-Cola in that country," Drury informs us. We see the aforementioned VIPs sat next to Beckenbauer grimacing and waving their hands in slow-motion, and Drury still hasn't been briefed on their identities. One quick Wikipedia search informs me that they are Prince Felipe and Princess Letizia, heir apparents to the Spanish throne.
Time for another Ukrainian substitution, and a chance for Peter Drury to make David Pleat squirm: "A man you know very well coming on David, Sergei Rebrov, you spent an awful lot of money on him."Pleat begins to get his excuses in early: "No, you'll see he's the record holder of Ukrainian caps, he had a wonderful partnership with Shevchenko, he was playing some wonderful football, we brought him to Tottenham. He needed a good start, he never got that, and I think it was a bit of a culture shock, he failed to adapt, the direct style at the time didn't really suit him, he never really integrated, and he cut a lonesome figure at times, it was very difficult for him. He was one of those players that come from abroad that make you think you've got a diamond and it doesn't quite turn out that way."
Spain have a goal disallowed as Albelda bangs heads with Timoschyuk whilst going for the ball. Sadly, Drury doesn't spot the referee's whistle as Senna rockets the ball into the net - "Senna, oh - bosh!" is his unfortunate choice of phrase, given our hosts. Guardian's play-by-play commentary describe the non-goal as a "bullet-header", which would have been impressive since the ball was lower than even Trevor Brooking circa 1980 could have dealt with.
Rebrov is described by Drury as a "horse for that course" in reference to his return to Dynamo Kiev after his English adventure. Shortly afterwards, Cesc Fabregas comes on to replace Luis Garcia, and is described as "unignorable after those manly displays growing into Vieira's boots". At "just 19", he is apparently "old enough to be Theo Walcott's grandad", peculiarly.
"I've certainly thought that this Swiss referee has probably been the second most unimpressive referee in the tournament so far," opines David, without actually naming his number one. The game then pauses for Vorobey to get treatment and everyone grabs a drink. Pleat won't let it lie: "A lovely shot there of the referee taking plenty of liquid and yet only the other night they were denying the players liquid, but the referee can obviously have a drink - particularly when he's performed as well as he has - excuse me(!)"
Another shot of Spain's royal couple joining in the drinking theme, and Drury still hasn't been briefed as to who they are. "Pimms? Soon be the start of Wimbledon" is his best guess as to their VIP status.
Carlos Puyol clearly hasn't been informed that you're supposed to take it easy when you're three-nil up. An interception, a dribble, a Zidane turn, a one-two, a cushioned header down, and it's 4-0. "Look how much Puyol still wanted the ball, he teed it up for Torres, that's a magnificent goal!"Pleat clearly isn't prepared to credit the Barcelona defender for his hard work, however: "It was Torres' determination in the first place that got the ball back to Torres. It was he that enabled Puyol to recover..." That's the same Fernando Torres who simply received the one-two, stumbled, almost lost possession, then ran into the box for the finish after Puyol had made all the effort.
The final whistle blows and Drury points out that "the new kids have taken a right caning". One last shot of our still unidentified royal party and Beckenbauer, followed by a shot of fans (including one holding up a sign saying "show me on TV please"), and Drury leaves us with the advice that it's "worth watching the Spaniards".
A brief post-match analysis, with just enough time for one more mention of England v T&T before the first reference to England v Sweden as the next ITV competition prize. The pundits are unanimous that the penalty decision was harsh, the sending off was harsher, and Fernando Torres will be moving to a bigger club.
What we've learned: Ukraine aren't half the dark horses we thought they'd be, England's next two games are live and exclusive on ITV1, Peter Drury is actually worse than we thought he was, and ITV's transmission centre can be contacted on (0207) 261 8877.