France v South Korea, BBC1
Welcome to Leipzig, and we open with a moody Gallic piece showing how long it is since France last scored a World Cup goal, just to taunt poor old Marcel Desailly (part of tonight's panel, who have "an average age only marginally higher than that of the French!") that little bit further.
Gary warns us that South Korea made "nearly the highest number of completed passes in the opening round of games with 544 - that's just ahead of England's 37!" Sven "has some important team news for us," announces Gary, only to link to yet another Garth Crooks interview just as the vision of Sven holding a microphone and doing a piece direct to camera faded into my mind. Apparently Rooney and Owen will play upfront, reveals Garth exclusively (mere hours after almost every website announced the same story).
Lineker brings up the now-infamous stat of Henry never scoring from a Zidane assist (Marcel promises "it will happen tonight!"), before telling us French coach Raymond Domenech distrusts players born in the Scorpio starsign. "I wouldn't make his team then!" laughs Ian. "Everyone knows it's Capricorns you need to worry about!" declares Gary.
It's 4am in Korea but there are expected to be 300,000 people watching in the streets of Seoul, according to Steve Wilson. Mark Lawrenson doesn't know what the Korean fans are on, but he wants some.
"Thierry Henry scores! Had to come good sooner or later!" is Steve's first meaningful contribution to the match, some eight minutes in. "France have finally woken up to the stage they are on." The assist came from Wiltord, not Zidane, in case anyone was wondering.
Lee Ho fouls the impressive Florent Malouda. "I've been asking all day how come Lee Ho is just 'Lee Ho' when everyone else has three names," remarks Wilson. "I haven't had an answer." "Good luck!" offers Lawro.
We see a close-up of the Domenech, causing Lawrenson to analyse the big issue of the day: "I'm trying to think who he reminds me of, I just can't work it out..." "David Steel, the old England cricket captain?" offers Steve. "Eddie Jordan, there you go - with glasses!" confirms an inspired Lawro.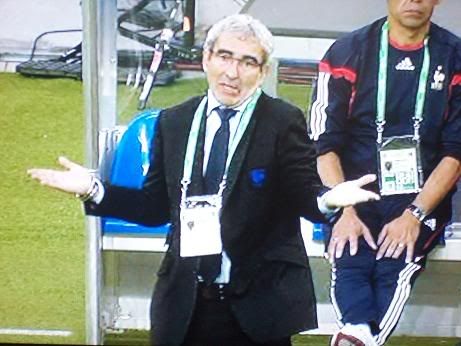 Park Ji-Sung "lost his slipper..oh sorry, boot!" according to Mark, who also takes time to declare "I've never seen so many close ups of a ball in my *life*!"
France are awarded a free-kick as Henry is bundled to the floor by Choi Jin-Cheul. "Who's going to take this?!" asks Wilson incredulously as Zidane, Henry, Malouda, Gallas and Wiltord all surround the ball. Lawro helpfully keeps count as the French players slowly drift away: "It was a quintet, now a quartet...now a trio..." The referee meanwhile goes insane with his whistle as he tries to instruct the Koreans to step back a further 6 inches, and finally Henry smacks the free-kick straight into the wall.
Lawrenson is unimpressed as Henry drops to the floor optimistically when under pressure with just the keeper to beat. "I think he guers
['goes' - Ed]
over too easily - I think if he's a bit stronger he gets a second goal for France!" We see it again in slow-mo to allow Mark to tell us in more detail whether it was a penalty: "No. No, no, no, no, no, no..."
France soon have another corner, from which Vieira apparently heads the ball beyond the line. "It's a howler - should have been 2-0 to France!" says Mark. Steve can't understand why the linesman didn't give the decision. We see a completely unhelpful replay from the pole camera behind the goal, which as Lawrenson points out "shows us nothing". "This might give us the view," suggests Wilson optimistically a few minutes later as the incident is replayed from a camera on the half-way line. Just replay it from the original angle, for heaven's sake!
Look, in the stands - it's a bird! It's a plane! No, it's Franz Beckenbauer! "Franz Beckenbauer being at the game goes without saying because Franz Beckenbauer's been at every game," explains Steve, for the benefit of anyone who's just joined us. "Tell you what, the engine on his helicopter will need a refit soon!" quips Lawrenson.
Eric Abidal hobbles off for treatment just before half-time after a seemingly innocuous collision with Park Ji-Sung. The referee restarts play with a drop ball, although seemingly having to explain the concept to Lee Ho, the Korean waiting to sportingly punt the ball back downfield to Fabien Barthez. We don't see it on camera, but Wilson tells us that "the referee applauds Lee Ho!" - a turn of events that has Lawrenson chuckling away like a loon. "Funnily enough I haven't seen anyone applauding the referee!"
During the interval, Gary picks up on Lawrenson's 'Domenech lookalikey' theme. "We've had one or two emails from viewers - Parker from Thunderbirds I thought wasn't bad, and one I really did like and I think is pretty accurate: Paul O'Grady?" "Eddie Jordan's an 8, Parker's a 7" is Hansen's declaration. "It's good to see France have stopped using those lookalikeys for Henry and Vieira anyway!" quips Lineker, before pointing out that Barthez has a doppelganger in the crowd tonight - "he's actually got goalkeeper's gloves on as well!" cackles Ian Wright.
Today's England interviewee is Rio Ferdinand, and afterwards Lineker asks Desailly for his view "on Rio Ferdinand". "Henry or Ferdinand? I mean it's two different players..." questions Marcel, not unreasonably considering Gary's slight Leicestershire twang. The confusion isn't immediately obvious and Gary asks Marcel to explain his remark - with *hilarious* consequences! Even Ian Wright is struggling to hear Lineker above the tannoy outside. "Clean. Sheets. Are. Important?" repeats Gary. "Very. Important!" agrees Wright. "It's amazing how your hearing goes when you get past 40!" concludes Lineker.
Steve Wilson is amused as the French players take an age to return back onto the pitch at the restart. "The referee has got the second half underway with Thuram still jogging on and out of position, which I suppose would serve them right if you can't get back on time."
"Your mate the referee has got one right!" points out Lawrenson after a slow-motion replay shows Vieira clearly pushes Jin-Cheul over whilst trying to get on the end of a cross. Wilson had protested vehemently up until the replay, incidentally.
Malouda slices a shot horribly wide from the edge of the area, and a replay delightfully shows the ball bouncing off a camera and scaring the life out of an official in the background. "The guy in the suit behind the cameraman was in more danger than the goalkeeper!" explains Lawro.
France are continually looking towards Zidane to provide the spark, causing Steve to gush: "Never stops moving, Zidane, does he? Just sort of flows and swirls...like a ripple on a river with a ball at his feet! I think it was Di Stefano who once said that 'Zidane played like he had silk gloves on his feet...'"
"Some news coming from the Togo team camp, by the way - the Togo team will apparently have a meeting tomorrow to decide whether they will play their match against Switzerland, and guess why, Mark?" "Money?" "They want more money." "That's awfully kind of them..."
Whilst all of the above is happening, play has stopped as Patrick Vieira and Lee Ho receive treatment after a collision. "You know what he did?" asks Mark to Steve, regarding Patrick. "He hurt his knee on a South Korean's head!" "Lee Ho's right ear will be buzzing," announces Steve as we see a replay. "Sorry?" says Lawro, true to form. It appears to be more than just earache for Lee Ho, who is soon substituted. "If the coach is shouting at him to come off, he can just pretend he can't hear him!" suggests Mark, sympathetically.
"It may only be 1-0 but it's amongst the most one-sided matches in the World Cup, though the swagger that France have is nothing akin to that of the Argentines, it has to be said." Commentators' curse, anyone?
Abidal collects a yellow card "and will miss the Togo game", according to Wilson. "If there is one!" Lawrenson reminds us.
Korea begin to show promise, with several decent attacks in quick succession. "Easy for Barthez from the Kim Dong-Jin header. But it's an effort on goal, and it's their first!" observes Steve. 30 seconds later, Wolves' Seol Ki-Hyeon crosses from the right wing: "Cho Jae-Jin! And it's gone in!" rhymes Wilson as a crouching Barthez desperately fails to stop a flick-on from point-blank range (in fact, the ball may have been going over the bar before Barthez's fingertips redirect it sideways into the corner of the goal). Cue mass hysteria from the masses of bouncing Korean fans throughout the stadium. "Korea have scored and I think it was Park Ji-Sung who bundled it over the line! France, who have been in complete control for 80 minutes, have been undone!"
Perhaps one of the iconic images of this World Cup as a replay of the equaliser ends with a frustrated Gallas picking the ball out of the net and booting it back towards the centre spot with a look of utter disgust on his face. "Look at William Gallas - he is furious, and the French should be!" comments Wilson. "They've been the better side by the length of the Champs Elysees, but it's 1-1!" "Barthez had a bit of a flick stroke snatch at it," says Mark at his double-entendre best. "In the end it's gone in in slow motion." It's a slow-motion replay, Mark...
"France have completely blown it," declares Steve. "They've got 7 minutes plus stoppage time to get themselves out of a hole of entirely their own making." They promptly blow their first chance to start digging, as Zidane threads the ball through to Henry, only for Thierry to hit his shot straight at the keeper. A frustrated Zidane follows up slightly too aggressively for the referee's liking and picks up his second yellow card of the tournament, thus missing the Togo match (which we earlier learned is to be played on Zizou's 34th birthday). The action is by now end-to-end, so it takes an increasingly high-pitched Wilson a few minutes to realise the significance of this: "We might be seeing the end of Zinedine Zidane here - he retires after the World Cup. He ain't gonna play in their third group game, and who knows - the way it's shaping up France might not have a fourth game here!"
Wilson starts to dream the impossible dream as Korea have a free-kick inside stoppage time. "Just imagine if they score now. Just imagine if South Korea score now. This could be the last kick of the game!" As the ball goes wide, Lawrenson reminds us of the disallowed goal in the first half, whilst Barthez's goal kick actually turns out to be the final kick.
"France have blown it!" repeats Wilson, before attempting to set a new record for closing statements. "And not for the first time! On the big stage, they had the game in their grasp - trying to swagger their way through the second half, and they've been caught cold with a sucker punch from Park Ji-Sung. And Raymond Domenech will be vilified and castigated. France had the game in their grasp - they threw it away. Why didn't they play when they were 1-0 up? Park Ji-Sung has won a point for South Korea. France have played 2, and drawn 2 - they might not go through. What a result for the Koreans! What a calamity for the French! There's the man who scored the equaliser...well, Dick Advocaat's side have made headlines in Leipzig. The French have thrown it away - France 1 South Korea 1..."
"Marcel must be gutted," suggests Wright during the post-match analysis. "I've never heard quite such a loud cry of anguish as came from your good self when they equalised?" enquires Gary to Desailly, clearly not having learned after the half-time Rio/Henry blunder how to be speaking of the easily comprehensible English for the assistance of the pundits what are foreign.
We then review Korea's equaliser, and Hansen adds insult to injury by asking Desailly to analyse Gallas' frustration. "It's nothing to talk about, because you laugh a lot..." says the Frenchman, clearly depressed after watching the match amongst 3 unsympathetic Brits. Ian Wright shrieks with laughter like a schoolgirl as Marcel sounds about ready to take them all on: "Don't laugh, I am upset also..." Now that would be worth paying to watch. Hansen twists the knife even further by reminding Desailly that he predicted an Henry goal from a Zidane pass, and we briefly reflect on the latter's booking and consequent absence from the final group game.
In an attempt to pacify the rankled Desailly, we review Saturday's win for Ghana against the Czechs and Desailly is complimented on the performance of the country of his birth. Hansen and Wright eventually realise it's not good form to take the piss non-stop and start to identify positives for the French, and there's even a moment of positive analysis of the Koreans amidst the non-stop French perspective. Finally, Lineker wraps things up by reminding us that "Korea grab a late point despite being played off the Park." Goodnight everybody!
What we've learned:
France are less cohesive as a unit than Serbia & Montenegro (maybe it's time for French devolution to avoid the Zidane followers from ever having to play alongside the Henry brigade?); Korea have somehow collected 4 points from this tournament despite looking like a pub team in the first half of both matches; Steve Wilson gets admirably effusive during dramatic finishes; Lawrenson isn't half as annoying when he's not got Motson as his equally unfunny foil; and Marcel Desailly is a ticking timebomb, about 3 jokes away from going postal in the BBC studio towards anyone who's ever made a light-hearted remark against the French team.